Spain's Castor Underground Gas Storage (UGS) Project
Última actualización: 5 Enero 2007
The Castor UGS Project is considered by interested parties, industrial and governmental, to be the preeminent underground gas storage project in Spain, and essential for the Spanish gas system, as reflected in it being assigned the highest category, 'A' Urgent, in the updated Energy Infrastructure Plan (2005-2011) approved by the Government in 2006.
Eurogas Corp.
works on the many fronts that are required in the implementation of the
Castor UGS Project
. The very nature of a large underground gas storage and infrastructure project entails a lengthy regulatory and permitting process. It also requires a thorough understanding of the characteristics of the underlying reservoir in order to enable the right selection and configuration of the facilities. Castor UGS reservoir performance has three highly attractive features:
1. Large nominal capacity, estimated at 1.3 billion cubic meters
2. High deliverability rate, estimated at 25 million cubic meters
3. Deliverability rate can be maintained at much lower levels of stored gas, compared to most other UGS facilities, where deliverability rate starts to decline as gas is withdrawn.
Castor's high deliverability could allow the facility to be utilized to full nominal capacity the equivalent of two times a year, thereby materially increasing its throughput capacity. This will be of tremendous value to the gas system, in providing both strategic and operational usage.
The needs of the gas system are evolving and are such that the Spanish administration is giving high priority to the development of underground gas storage capacity, which is one of the lowest of the major economies of Europe. Demand for gas to power electricity generation grew at a year on year rate of 30% in September. The Government has sent to Parliament an amendment to the Hydrocarbons Law and is developing associated regulations, which will govern the gas distribution and transportation sector, including underground gas storage activities. Importantly, the Spanish administration is committed to advancing the administrative and environmental approvals required for the implementation of Castor UGS Project, as well as other Category 'A' projects, in parallel to the processing of the above-mentioned amendment and regulations. The Corporation and the Administration are working closely to define and satisfy the requirements for the grant of a Development Concession for Castor UGS Project, including the issue of the extraction of residual oil as a simultaneous activity with the construction of UGS facilities.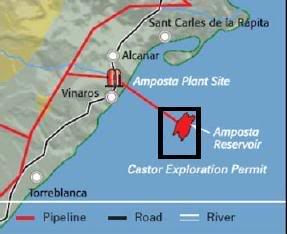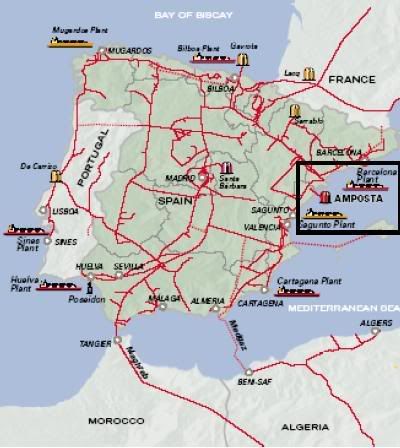 With respect to the technical program, progress has been made in several areas. The reservoir analysis and other technical studies are now complete, the results of which were considered essential before embarking on the commissioning of the Front End Engineering and Design ("FEED") study.
In October 2006, Eurogas' Spanish subsidiary, Escal UGS S.L., entered into an Assistance Contract with the ACS Group, the largest construction group in Spain, related to the development of the Castor Underground Gas Storage project. This agreement is expected to be the first step in a broader collaboration. Under the terms of this contract, ACS Group will undertake the FEED study and provide permitting and licensing services. The FEED work will take approximately 6 months, and will result in a fixed price determination for the project investment. It will form the basis for an award of a turnkey contract for Engineering, Procurement and Construction ("EPC"). The awarding of the EPC contract will comply with applicable public procurement provisions. The contract cost of this work is expected to be EUR 1.5 - 2 million. Regional and local permitting is a critical activity and will require sustained effort. Support from the ACS Group will be of great value.
ACS Group
is a global leader in the creation, construction and operation of infrastructure in a variety of industrial sectors such as oil & gas, LNG and re-gasification, power generation and grids, and railways. It is one of the world leaders in the construction and installation of off-shore platforms and infrastructure topsides, and offers extensive experience in transportation and distribution networks, onshore natural gas pipelines and gas compression stations. Its industrial investments include a 40% stake in
Union Fenosa
, and a 10% stake in
Iberdrola
- both leading Spanish utility companies.
Eurogas owns 73% of Castor UGS project and the Castor Exploration Permit, through its Spanish subsidiary Escal UGS S.L.
Eurogas Corporation ("Eurogas") announced recently (Dec 21, 2006) that it has broadened its cooperation with the leading industrial group in Spain, ACS Group, for the development of the Castor Underground Gas Storage project. The Corporation's 73% owned subsidiary, Escal UGS S.L., has entered into a Collaboration Agreement with ACS Group for the provision of services in addition to the previously awarded contract for the Front End Engineering and Design (FEED) Study. The scope of the additional services includes ACS acting on behalf of the company in discussions with government/regulatory bodies regarding project approval, implementation and remuneration.

In addition, ACS will subscribe for a 5% equity interest in Escal, subject to a redemption clause and a shareholders agreement. ACS will gain a seat on the Board of Directors of Escal. Final price will be determined at the close of the financing of the project.
SOME LINKSEIA US DoE
The Basics of Underground Natural Gas Storage
(html)
The Basics of Underground Natural Gas Storage
(pdf)
Natural Gas Org
:
Storage of Natural Gas
US FERC
Natural Gas Storage
Summary of Key Findings
Introduction
I. Background and History of Underground Storage
II. Economics of Underground Storage
III. Possible Options for Stimulating Underground Storage Development
Appendix A – Underground Gas Storage Tariff Rates
Appendix B – Example of State Regulatory Approach
Underground Gas Storage in Europe and Central Asia
. By R. SEDLACEK* OIL GAS European Magazine 4/1999 (pdf). It seems this paper is not in Internet anymore.
The European Market for Seasonal Storage
. Clingendael International Programme. Discussion Paper. February 2006. (pdf)
Le stockage de gaz naturel en France et en Europe
. DGEMP-DIREM.
El proyecto Castor
pretende convertir un antiguo pozo petrolífero de Amposta, frente al delta del Ebro y a unos 20 kilómetros del litoral de Castellón, en el mayor almacén artificial de gas natural de España.

El gas almacenado en el depósito subterráneo que dejó la extracción del petróleo será utilizado después para su consumo en España a través de un gasoducto marino y una instalación industrial situada en Vinaroz. La empresa Eurogas descubrió en 1995 el potencial que tenía el yacimiento como almacén de gas. Eurogas encargó el pasado octubre al Grupo ACS el estudio "FEED" (Front End Engineering and Design) para determinar las bases del concurso de adjudicación del contrato "EPC" (Engineering, Procurement and Construction). El proyecto Castor tiene el propósito de convertir la cavidad subterránea que contenía el petróleo en un almacenamiento de gas natural aprovechando el sellado natural que ofrecen las calizas que protegen el yacimiento. Para su explotación comercial se requerirá las construcción de infraestructuras en el mar y también en tierra, donde es necesario construir una planta de compresión y preparación del gas natural que con toda probabilidad se hará finalmente en el término municipal de Vinaroz, el punto costero más próximo al yacimiento Amposta.
Por otra parte, Eurogas Corporation ("Eurogas") acaba de anunciar (21 de diciembre de 2006) que ha ampliado su cooperación con el Grupo de ACS para el desarrollo del proyecto Castor, el Almacenamiento Submarino de Gas más grande de España. Escal UGS S.L., de la que Eurogas es propietaria del 73 %, de ha firmado un Acuerdo de Colaboración con el Grupo ACS para la provisión de servicios además del contrato recientemente suscrito para el estudio de Front End Engineering and Design (FEED). El alcance de los servicios adicionales incluye que ACS actúa en nombre de Escal en las conversaciones con los agentes reguladores y la administración en cuanto a aprobación de proyecto, realización y remuneración.
Además, ACS toma un 5 % de Escal, sujeto a una cláusula de amortización y un acuerdo de accionistas. ACS obtiene un asiento en el consejo de Escal. El precio final será determinado al final de la financiación del proyecto.
Marismas: Extracción 4.4 Mm3(n)/día; Volumen Operativo 600 Mm3 (n).

Poseidón: Extracción 1.5 mm3(n)/día; Volumen Operativo 250 Mm3 (n).

Ampliación de Gaviota: Extracción 14.2 Mm3(n)/día; Volumen Operativo 1.558 Mm3 (n).

Yela: Extracción 15 Mm3(n)/día; Volumen Operativo 1.050 Mm3 (n).

Castor

: Extracción 25 mm3(n)/día; Volumen Operativo 1.130 Mm3 (n).

Reus: En estudio.