The ENSG Annual Report for 2006 Released
The ENSG Annual Report for 2006
has recently been released.
The Electricity Networks Strategy Group (
ENSG
) provides advice to
DTI
,
Ofgem
,
Defra
, the
Scottish Executive
and the
Wales Assembly
, on issues associated with the development of the distribution and transmission electricity networks. The ENSG has a number of sub groups, the Distributed Working Group (DWG) and the Transmission Working Group (TWG).
The TWG is concerned with electricity transmission networks operating at 400kV and 275kV (and, in Scotland,at 132kV), while the DWG's work relates to distribution networks operating at lower voltages and to which most consumers, and, increasingly, smaller generators, are connected.
The ENSG is chaired jointly by the DTI and Ofgem, and has senior representation from the Scottish Executive, the Welsh Assembly, DEFRA, the network operators, generators and other industry participants. It meets every 3 months and summaries of its meetings will be posted on this page.
The following diagram despict the ENSG organization: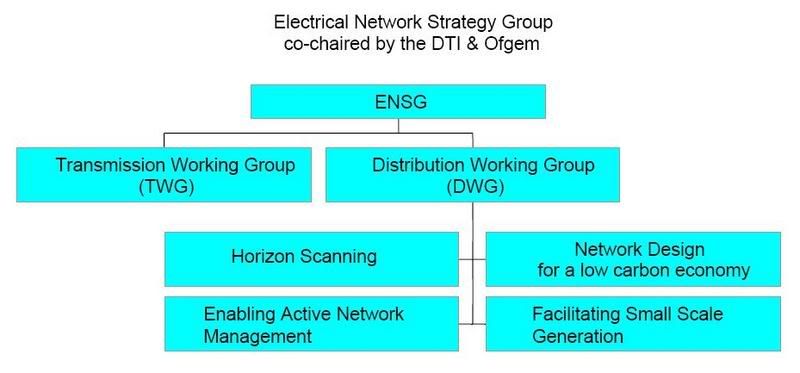 The origin of the ENSG is the Distributed Generation Coordinating Group (DGCG). British government had taken a number of measures to support the development of small and micro generation technologies connected to the distribution networks close to the point of demand. Not least of these was the creation of the industry-wide Distributed Generation Coordinating Group (DGCG) which operated over a three-year period to November 2004 and which initiated a range of projects designed to address barriers to the integration of distributed generation. Building on the valuable work of the DGCG, the DTI together with Ofgem established in January 2005 the Electricity Networks Strategy Group (ENSG), which looks more widely at issues relating to the electricity networks while maintaining a focus on the development of distributed generation.

The 2006 ENSG Report has the following index:

CONTENTS
BACKGROUND
THE ENSG'S ROLE
THE TRANSMISSION WORKING GROUP (TWG)
The TWG's role
Programme 2 – The Technical Standards
Project 1 – GB SQSS Governance
Project 2 – Onshore GB SQSS
Project 3 – Offshore GB SQSS
Project 4 – Grid Code
Project 5 – Nuclear Generation
Programme 3 – Connecting Renewable Energy
Project 1 - Regional Planning Strategies
Project 2 - Connection Application Reporting
Project 3 - Transmission Plans and Options
Project 4 - Connecting Renewable Generators
Programme 4 – Accommodating Variability and New Technology
(Project Director: Lewis Dale
Project 1 - Nature and Impacts of Wind Generation
Project 2 - Wind Generation Access to the Transmission System
Project 3 - Stability and Security Issues
THE DISTRIBUTION WORKING GROUP (DWG)
The DWG's role
Programme 1 – Horizon Scanning
Project 1 – Scenarios for UK Power Systems
Project 2 – Network Architecture for UK Power Systems
Project 3 – Network Architectures – Definition of Future Projects
Project 4 – Existing and New Technologies and Infrastructures for Future Networks
Project 5 – Impact of Standards and Migration Planning
Project 6 – International Activities and Future Electricity Networks
Project 7 – Stakeholder Liaison
Project 8 – Tools and Methodologies
Programme 2 – Network Design for a Low-Carbon Economy
(Programme Director: Dave Openshaw: May 2005 – March 2007)
Project 1 – Developments in Network Design Standards, Practices and Plant and Equipment
Specifications
Project 2 – Developments in Health & Safety Legislation
Project 3 – Environmental and Social Values in Network Design
ENSG Annual Report 2006
Project 4 – Network Renewal Synergies
Project 5 – Review of Network Security Standards
Project 6 – Automation to Optimise Distributed Generation and to Reduce Losses
Project 7 – Identifying System Resonance Risk
Project 8 – Dynamic Ratings and Active Constraint
Project 9 – Fault Current Limiting Devices (FCLs)
Potential Further Projects
Programme 3 – Facilitating Active Network Management (ANM)
Project 1 – Programme Documentation
Project 2 – Legislative, Regulatory and Commercial Barriers to ANM
Project 3 – ANM Infrastructure and Practices Project 4 – Monitoring R&D, Pilots and Trials
Project 5 – Legislative and Regulatory Issues
Project 6 – ANM: Technology Issues and Opportunities
Project 7 – Functional and Data Requirements of Active Networks
Project 8 – Current and Future 'Good Practice' in ANM
Programme 4 – Small-scale Generation
Project 1 – Connection Terms
Project 2 – Microgeneration Export Reward
Project 3 – Former Project: 'Lease Financing Through Energy Bills'
Project 4 – Accrual of Renewables Obligation Certificates (ROCs)
Project 5 - Former Project: 'Engineering Recommendation G83'
Project 6 – EN Standard for Microgeneration Connection
Project 7 – IET Wiring Regulations (BS7671)
Project 8 - Former Project: 'Electricity Safety, Quality & Continuity Regulations 2002'
Project 9 – Microgeneration Accreditation Issues
NETWORKS IN A LOW-CARBON ENVIRONMENT - AND THE SKILLS REQUIRED TO OPERATE THEM
COMMUNICATIONS POLICY
RELATIONS WITH OTHER ORGANISATIONS

GoTo Comprehensive List of Posts in this Blog (Ir a Lista Completa de Todos los Comentarios del Blog)
GoTo Last Comment in Main Page (Ir al Último Comentario en la Página Principal del Blog)

ha sido publicado recientemente.
El Electricity Networks Strategy Group (
ENSG
Grupo de Estrategia de Redes Eléctricas) asesora al Ministerio de Negocios, Empresas y Reforma Regulatoria (
DTI
, que ha asumido algunas funciones del antiguo Ministerio de Industria y Comercio), al regulador de gas y electricidad (
Ofgem
), al Ministerio de Medioambiente (
Defra
) británicos, al gobierno escocés (
Scottish Executive
) y al gobierno galés (
Wales Assembly
), en asuntos relacionados con el desarrollo de las redes eléctricas de transporte y distribución. El ENSG tiene dos subgrupos, el Distribution Working Group (DWG, Grupo de Trabajo de Distribución) y el Transmission Working Group (TWG, Gurpo de Trabajo de Transporte).
El TWG se ocupa de las redes eléctricas de transporte de 400kV y 275kV (y, en Escocia, de 132kV), mientras que el DWG se encarga de las redes de distribución que operan a tensiones inferiores a las que están conectados la mayoría de los clientes, y cada día más, los pequeños generadores.
El ENSG está presidido conjuntamente por el DTI y la Ofgem, y en él están representados los gobiernos escocés y galés, el Defra, los operadores de redes, los generadores y otros actores del sector eléctrico. Se reúne cada tres meses y sus actas pueden leerse en su página web.
El origen del ENSG está en el Distributed Generation Coordinating Group (DGCG, Grupo Coordinador de la Generación Distribuida). El gobierno británico había adoptado diversas medidas de apoyo al desarrollo de las tecnologías de la microgeneración que se conecta a la red de distribución en cercanía a los puntos de consumo. No fue la menos importante la creación del DGCG que funcionó durante tres años hasta noviembre de 2004, y que inició una serie de proyectos concebidos para atacar las barreras a la integración de la generación distribuida. Basándose en estos valiosos trabajos, el DTI y la Ofgem crearon en Enero de 2005 el ENSG, que contempla los asuntos de una forma más amplia en relación con las redes eléctricas manteniendo su atención en el desarrollo de la generación distribuida
GoTo Comprehensive List of Posts in this Blog
(Ir a Lista Completa de Todos los Comentarios del Blog)
GoTo Last Comment in Main Page
(Ir al Último Comentario en la Página Principal del Blog)